The Kaizen Newsletter #62 (08/09/2020) - Lessons learned from dog-sitting
Thoughts on dog-sitting, my Twitter usage and productivity
Hey friend 👋,

Welcome to the 62nd edition of the Kaizen Newsletter ⛩, a weekly newsletter where I share my thoughts, new ideas I learn and make weird connections between self-improvement, productivity, product, tech, sports, anime.
This week's newsletter is a bit shorter and also contains a lot of introspection, so let me know if you enjoy!
(if you got referred to this page by a friend or are simply visiting you can subscribe here👇)
---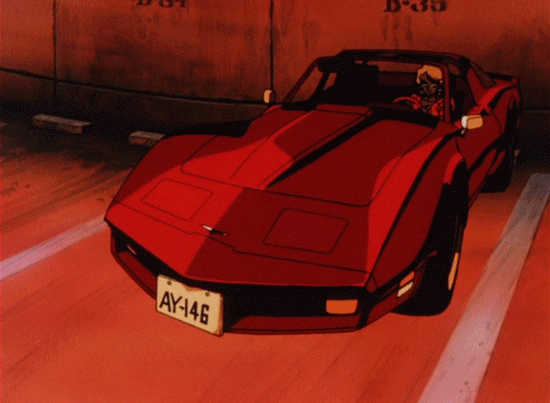 I was super excited for the long weekend because I didn't have any big plans which meant I would be able to dedicate time to read, work on my newsletter and shoot some tweets.
But I forgot that this past Friday, my friend would be dropping off her dog, Banh Bao, for the whole week since she was going to Banff during that time.
And I clearly underestimated the effort it takes to take care of the dog because my productivity was pretty much non-existent for the whole weekend.
It's the first time in my life where I'm responsible for another being's life other than my own, and let me tell you that it's EXHAUSTING (I can't imagine how parents are able to work at home when they have a bunch of kids running around, but truly kudos to them)!
The first day was especially hard because I just had to adapt to this new situation and had to make sure that this dog would survive with me as it's caretaker. 1h before the dog was dropped off, I had already planned out my whole day. Right after getting the dog, I would work a bit, then do some exercise outside and then end the day earlier with a bit of work....but that definitely didn't happen.
At the end of the day, I barely even answered my emails because I was so distracted.
Nonetheless, I have to admit that it feels really good to take care of someone else other than myself (yeah, I'm pretty selfish and lazy).
Although I usually get stressed out when I'm not productive, I decided to remove that pressure so that I can really dedicate time to take care of this dog. Seeing Banh Bao happy is way more rewarding than any number of retweets or likes. I mean look at him!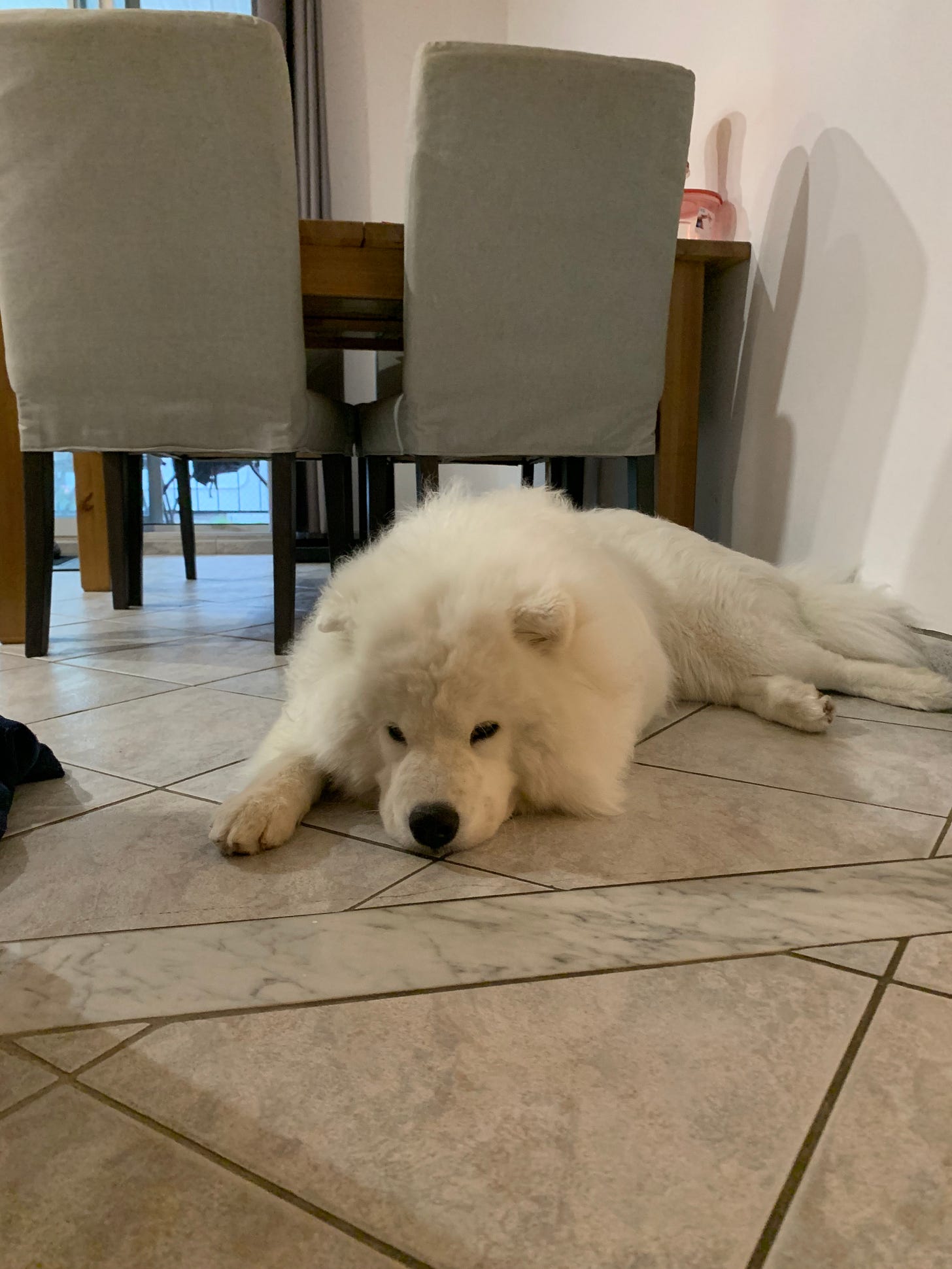 One thing that I realized is how rewarding it can be to take care of the dog even though the daily schedule gets repetitive. Yes, every day you have to walk the dog and feed him, but it's really in those small moments when you train him that it becomes really fun, because you see the growth of the dog after putting effort into it. I'm currently trying to teach him how to "spin around" and my goal is to get him to do it by the end of the week.
And I feel that a lot of us that are into self-improvement can relate to this. Even though our routines may seem repetitive, after a certain while, you will see the compounding effect of all the small daily habits that you have incorporated into your routine.
Another lesson that I've learned is how amazing it is to have someone to talk to in the area that you're learning. Since my roommate also has a dog (Twix), I don't feel alone. Whenever I have questions, I can almost immediately discuss situations with him and he always provides feedback that I can then apply right away.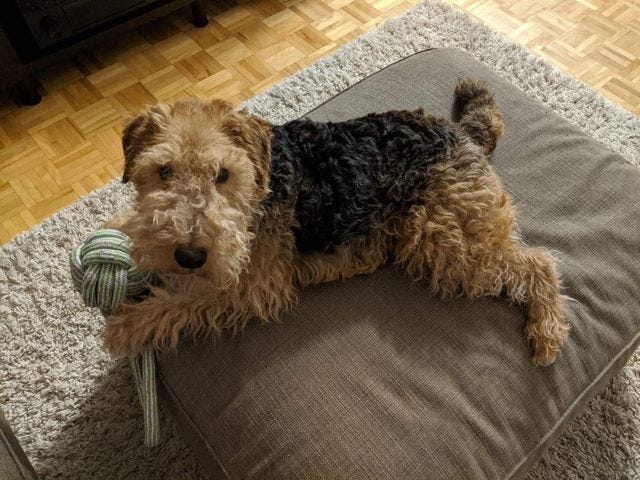 I probably would've been able to dog sit Banh Bao all by myself, but it definitely helps when you have someone who's experienced and has been through a lot so that person can push me in the right direction.
Alex Lieberman tweeted out today that we should all have an "intellectual sparring partner", but I believe that we should have multiple sparring partners in multiple areas of our life. have some for newsletters, for Twitter, for life, for product, for hockey, for volleyball and now one for dog sitting as well. They don't need to be experts in the field, but someone who you can trust and is doing a good job in that particular topic you want to spar with.
Now, on to the newsletter.
---
🤔 Thoughts
📱
Thoughts on my Twitter usage
For the past two weeks, I stopped having fun on Twitter.
I realized that I was starting to overthink my tweets and would only tweet when I felt that it was "cool enough" to get multiple likes.
I had a bad mentality where I was relying on external success to bring me happiness. I started to care too much about analytics and the number of impressions of my tweets and lost my way.
But after seeing the content that both Akiff and Brandon were sending out, I realized that's exactly what I wanted to do. They were killing it on Twitter not because they would send out cool one-liners, they were killing it because it actually looked like they were having fun on Twitter and would just share whatever was on their mind or whatever they were currently learning.
This reminded me why I started posting more on Twitter in the first place. I don't want to become this self-improvement/productivity thought-leader. I just wanted to have a place to throw my thoughts out there regardless of how well they would perform and this was a great reminder to me
And it's only after seeing the constant fun tweets that Akiff and Brandon were sending out
⚡️
Thoughts on productivity
For the past month and a half, if you haven't realized it, I've been sending my newsletter pretty late (and this one will be too - yay).
For the newer folks, my newsletter is supposed to be sent out on Tuesday evening, but recently I've been sending them out at around 12-2 AM EST.
I wrote about this in a previous newsletter and initially thought that my problem was that I just had less time than before and that's why I'm constantly shipping out issues later and later as weeks go by.
But after reading a tweet sent out by my friend Dickie, I now have a different hypothesis.
I'm actually at my best when I become super busy. I get way more done when my calendar is full and it's usually when I have lots of time that I tend to procrastinate.
And I think it's because I'm getting too comfortable with my newsletter. I actually mentioned this to my brother and girlfriend, but I've gotten pretty good at spinning up paragraphs from the top of my head, so I know that I'll always be able to send out a somewhat quality newsletter even though it's last minute.
My original thought was that I was spending too much time on my newsletter which meant that I didn't have any time to do anything else, but that's not true. In reality, I'm spending so much time on my newsletter because I have so much time.
So instead, I'm thinking of doing the opposite. I want to break out of my comfort zone, by pushing myself in my writing. Either by posting more tweet-storms or writing an essay on top of my newsletter or just tweeting more. It doesn't have to be something specific, but I need to start filling up my calendar with more stuff.
I actually want more stress so that I can be more productive.
🐦 Tweets
Good reminder for me as I tend to bring back the conversation to myself.
Love this from my friend Salman.
How I felt today scoring my first goal of the season in my soccer league.
🙏 Shoutout
I'm cheating, but I honestly had so many good conversations last week that I have to shoutout all of them. Thanks to Brandon, Robbie, Dickie and Brian for amazing conversations. I love doing this as I learn at least one new thing every time.
---
👋 End Note
If you want to know what I'm up to now, you can check it on my website here.
If you enjoyed the Kaizen Newsletter, then it'd be cool if you can share it with your friends.
Feedback is always appreciated, so let me know what you liked and what I can improve on by replying to this email.