Kaizen Newsletter #2 (06/04/2019)
(hundred) dolla dolla bill ya'll
This weekend was my first time visiting Philadelphia, and I was pleasantly surprised of how much I enjoyed the city. It has a lot of history, the food is great and the buildings are very impressive.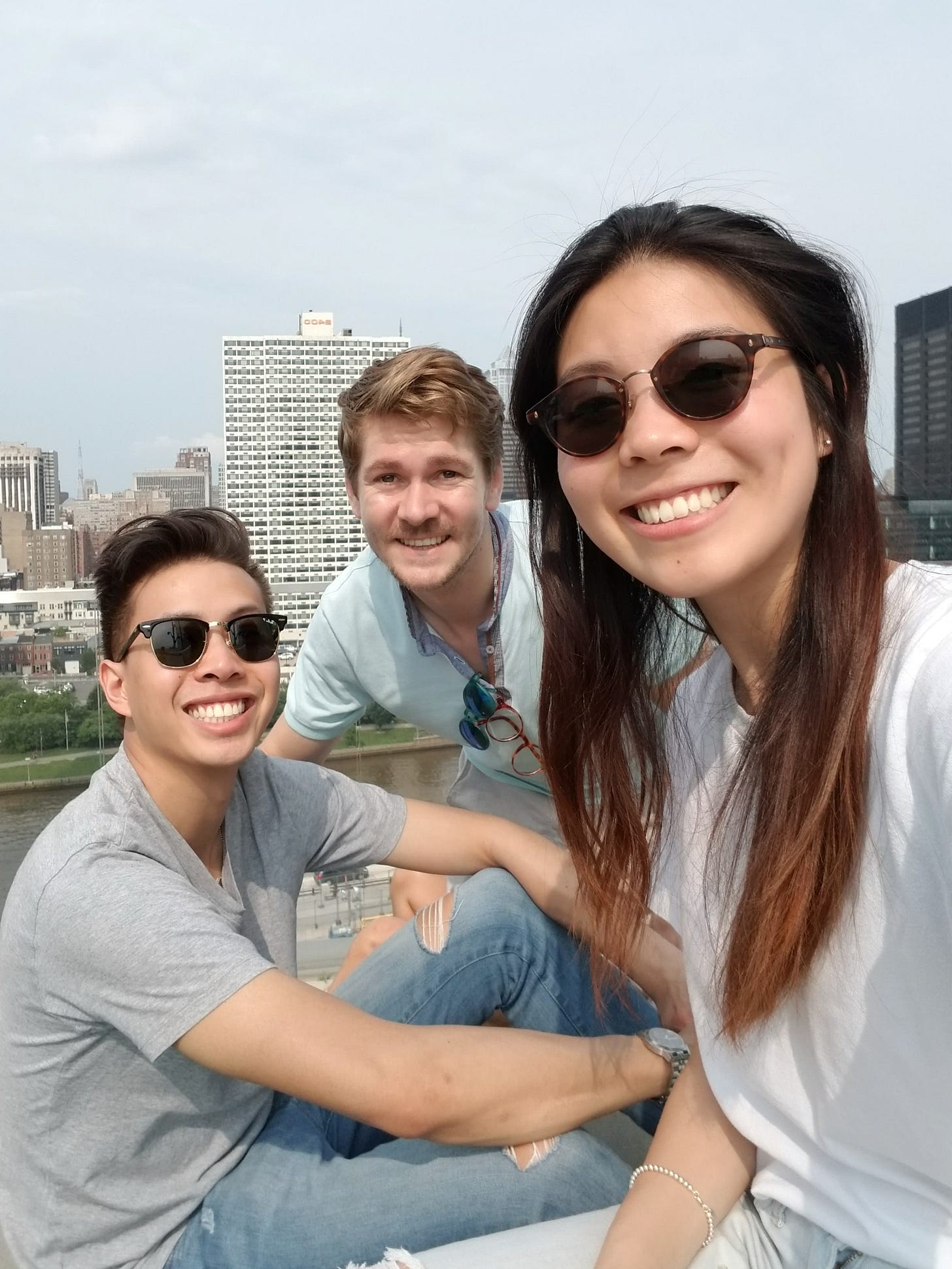 Philadephia is also home to a very important American figure, Benjamin Franklin. Now, I'll admit that my American history/culture is terrible (time to pull out the Canadian card), so the only thing I knew about Benjamin Franklin was that he's the dude on the 100 dollar bill. Nancy and I went to the Benjamin Franklin museum and discovered how smart and impactful he was to the US. Here's a list of some of his accomplishments:
He invented fins for swimming at only 11 years old

He became the owner of the Pennsylvania Gazette (showing how good of a business man he was)

He invented the lightning rod (which protects houses from lightning)

He helped draft the Declaration of Independence of the US

He wrote his autobiography
Out of all of his accomplishments and successes, what surprised me the most was that Benjamin Franklin was also an avid believer in self-improvement, which might explain why he amounted to so much success, since he was determined to find ways he could better himself. In fact, he even produced a series of annual publications under a pseudonym, Poor Richard (the whole series is known as Poor Richard's Almanack) where he writes about stories, maxims and bits of advice for readers. To further improve himself, he also chose 13 virtues (Temperance, Silence, Order, Resolution, Frugality, Industry, Sincerity, Justice, Moderation, Cleanliness, Tranquility, Chastity and Humility) that he considered were the most important to him in building his character and picked one to work on each week of the year.
---
⏱ Productivity
One thing I've always had a hard time doing is controlling the content of my calendar. Most of the time, meetings would get booked left and right and at the end of the day, I wouldn't have had time to do any of my personal work and needed to stay extra hours to finish up. This article argues that instead of others dictating your calendar, you should take control of it and block off hours to work on what's most important to you. Want to brainstorm on how to improve your product? Then block off some hours everyday to do so.

For the past three years or so, it happened very frequently that I felt stuck at work. Either I felt unmotivated or just confused on how to advance in my career. Even now, starting my new role as a product manager, I sometimes feel unsure on how should I progress. This article breaks down why you get stuck at work, why working harder at work isn't necessarily better and which strategies you should employ instead. The two big ideas from this article are the following: do research on your career and find what skills are important for you to move up and then create projects that will help you improve in said skills.
🏒🏀Sports
I always wanted to understand a bit more of what is going on and how you can evaluate players, and I feel this article does exactly that. As a hockey fan that enjoys the analytical side of things, this is a great overview of basketball advanced stats and a great introduction to the Raptors.

Found this really cool interview (thanks, Dad) with Pascal Siakam on how he was preparing for his first game in the NBA finals. I just really love how comfortable NBA players are to explain their thought process and they don't feel the need to just state platitudes over and over like in the NHL. I love the NHL, but one thing that the NBA does infinitely better is their marketing of players and it's openness in letting the players say what's on their mind.

Another example of this, Draymond Green recently called himself the best defender ever, which I'm sure he got a lot of flack for.
"The best ever defender?" Green said after the Warriors held Portland to 46 points on 38.5 percent shooting in the second half in Thursday's 114-111 win in Game 2 of the Western Conference finals. "Me." The best defender ever? "Me." Green punctuated his declaration with a nod as he strutted out of the locker room with a smile. But he wasn't joking. "That's what I believe. Wholeheartedly."
He then explains his answer in a following interview with this amazing quote.
"As a competitor, if you're trying to do something meaningful. If you don't have the mindset that you're the best ever, you failed already." - Draymond Green
That's definitely something you don't see in the NHL and makes me appreciate the NBA a whole lot more.
🎙Podcasts
📺 Shows
I listened to the Kanye episode of David Letterman's "My Next Guest Needs No Introduction"series on my drive back to Montreal and thoroughly enjoyed it. He talks about mental health, the media, his music, fashion, politics and much more. I know he's a very polarizing figure, but I have so much more appreciation for him as a person and artist after this interview. My favourite part of the show was when he critiques today's society because anyone who has a thought that is "outside the norm" is automatically vilified for it and now people are afraid of voicing their opinion if it's not the consensus. I'm definitely going to have to re-watch it to note down all of the small tidbits and learnings.
🎧 Music
🐦 Tweets
This can be applied to almost everything. In product management, it's highly encouraged to ship features more often to get feedback more frequently and faster. In sports, this is why it's super important to have a good coach (or multiple coaches) so he can tell you what to focus on and work on. This is also why Twitter is so valuable to writers since it allows you to ship your writing more often and get feedback faster from the public to see if you your idea is good or not.
🙏 Shoutouts
Shoutout to Marc-Antoine and his girlfriend, Heera, for being the best hosts in Philly. Really had an amazing weekend filled with fun, good food and great company!
---
👋 End Note
If you want to know what I'm up to now, you can check it on my website here.
If you enjoyed the Kaizen Newsletter, then it'd be cool if you can share it with your friends. They can sign up here.
Feedback is always appreciated, so let me know what you liked and what I can improve on by replying to this email.
If you see any cool articles, links, tweets, stories or podcasts that you think are interesting, feel free to share as well at alex@alexhughsam.com
See you next Tuesday!
Cheers,
Alexander