Kaizen Newsletter #1 (05/28/2019)
The Raptors are Going to the NBA Finals!
I'll always be a hockey fan at heart, but man was it exciting watching the Toronto Raptors clinch their first NBA finals appearance on Saturday night. I turned on the TV during the 2nd quarter and they were already losing by double digits.
I had a bad feeling that they if the Raptors couldn't win on home-turf, the Bucks would win back-to-back at home in Game 7, so in my head, this was a win-and-in situation for the Raptors.
Every time you thought the Raptors were making a comeback, the Bucks would take back their lead a few minutes after. By the middle of the third, the Raptors were losing by 15. Both Nancy (my girlfriend) and Annie (my brother's girlfriend) said they didn't want to continue watching. "Ok. It's over, I don't want to watch anymore!", they both said.
And that's when Kawhi decided to take matters in his own hands and started the comeback... which led to this amazing dunk on Giannis Antetokounmpo.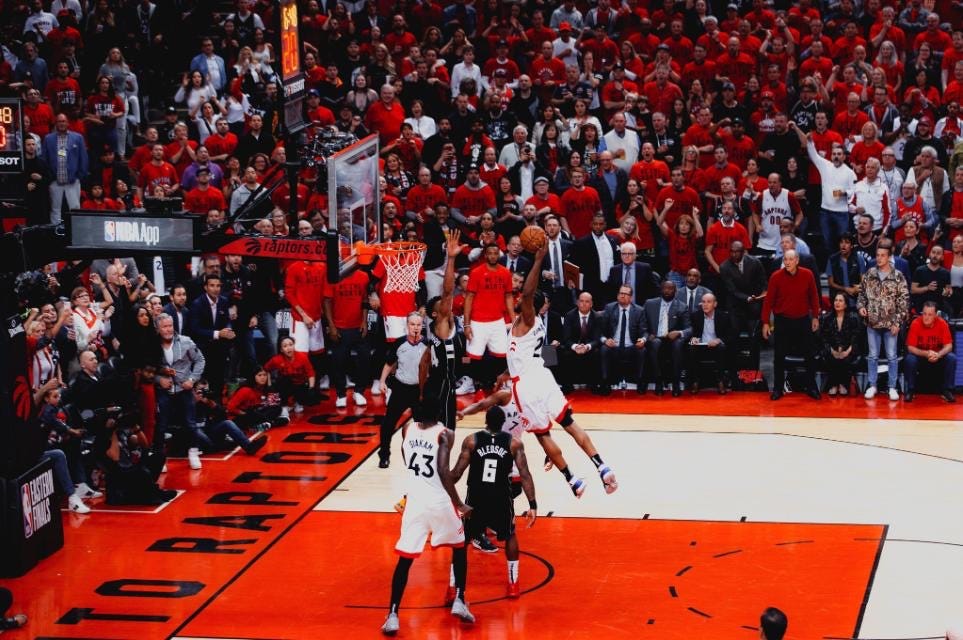 Who would've thought that after firing the NBA's coach of the year, Dwane Casey, and trading beloved star DeMar DeRozan, the Toronto Raptors would end up beating the 76ers AND the Bucks to advance to the NBA finals?? Certainly not me. I'm also wondering what DeMar must be thinking right now.
I don't think the Raptors will win the series against the GSW, but with Kevin Durant out for game 1, this is once again a must-win for them if they eventually want to win it all.
---
🏀 🏒Sports
The last time the St-Louis Blues were in the Stanley Cup finals, Boston Bruins defensemen Bobby Orr got immortalized in this now famous picture by scoring an OT goal to win the series. History has a funny way of repeating itself, since the Boston Bruins are once again in-between the Blues and the franchise's first Stanley Cup. By principle, as a Habs fan, I'm rooting for the Blues to win, but they already have their backs against the wall by losing G1 yesterday.

If you know me, then you know that two things I really love are sports and food. This article on Coach Pop, the coach of the San Antonio Spurs, presents a different side of him. It's an amazing read that demonstrates Coach Pop's love for food and wine and how it helped forge the Spurs amazing team culture and I feel that this quote from Danny Green describes exactly what it means.

"Dinners help us have a better understanding of each individual person, which brings us closer to each other -- and, on the court, understand each other better," former Spurs guard Danny Green says.

I also love Pop's take on the ideal number of guests to stimulate good conversation.

There are typically five other chairs at Popovich's table -- a point of emphasis, former Spur Steve Kerr says. Six guests at a table, Pop believes, fosters diversity of conversation without folks breaking off into separate chats. Not too many, not too few -- just right.
🍔 Food
After winning our hockey game this past Tuesday, the team went to eat at Saint Bock, a local brewery in Montreal. I was surprised to see that they offered a Beyond the Meat vegan burger and had to try it. I have to admit, it did taste pretty good, but is it really that healthy? According to this article, maybe not since they use canola oil, sunflower oil and a bunch of other ingredients that are found in frozen supermarket items.

I watched some episodes of the Street Foods documentary on Netflix and I LOVED the Osaka, Japan one. Not just because the food looked really good, but I also felt super inspired by Toyo-san, the chef and owner of Izakaya Toyo. If you want to know what sacrifice, hard-work, dedication and following your dream, then you have to check it out.
👨‍🎨 Creativity
I'm in the last week of my online writing course, Write of Passage, and I feel that it always takes me a while until I can actually start writing. The first thirty minutes or so, is just me writing stuff from the top of my head, erasing it and re-writing it again and again. I'm happy that I found this tweet and learned that I'm not the only one.
Found this on Twitter. It's Andy J Pizza's, an illustrator, creative rules. I especially like rule number 2. It's something that we also learn in Write of Passage. You want to follow the rules at first, and when you master them, you can start breaking them to stand out and create your own style.
🤖 Tech
As someone just starting in product management, I find it helpful to have a basis to compare yourself to. I'm obviously Product Manager 1, but now I know what I need to work and improve on to get to the next level.
🎙Podcast
Listened to Ramit Sethi's podcast on the Tim Ferris show and it's one of the most interesting one's I've listened to in a while. One of the reasons is because Nancy and I had a random discussion on prenups a while ago, and it was helpful to hear Ramit talk about his experience and thought process on the topic. The main takeaway was that a prenup is usually unnecessary unless you own things like a house or business. However, if you do decide to get one, make sure you talk about what money means to you in advance and Ramit suggests going to see a therapist as well.

In the same podcast, Tim also goes over his weekly meetings with his girlfriend where they give each other feedback on their relationship. Each party would mention the following: "What I think I'm doing well", "What I think I could do better", "What I think you're doing well", "What I'd love to see more of". It seems a tad too much Type A for me, but still interesting.
🎧 Music
🐦 Tweets
Really felt this tweet when I saw it, so had to share it. I feel this can be applied to almost anything in life. The more you believe that you can do X, the more likely it will happen.
🙏 Shoutouts
Shoutout to my fellow writeofpassager, Shanu, that made me realize that writing is all about fun and gave me the courage to write about anime for my capstone project. If you enjoy this newsletter, I'm sure you'd enjoy his as well, so I encourage you all to check it out.

Shoutout to my brother, Nicholas, who brainstormed with me on how I should write my capstone project.
---
👋 End Note
I honestly had super fun creating this first newsletter and excited to continue sending you the best stories, links and stuff I learn every week.
If you missed out on my personal update, you can check it on my website here.
If you enjoyed the Kaizen Dojo, then it'd be cool if you can share it with your friends. They can sign up here.
Feedback is always appreciated, so let me know what you liked and what I can improve on by replying to this email.
If you see any cool articles, links, tweets, stories or podcasts that you think are interesting, feel free to share as well at alex@alexhughsam.com
See you next Tuesday!
Cheers,
Alexander